146 : Top Spiral Notebook by Rite In The Rain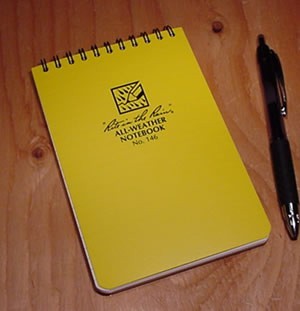 Price: CAD $8.09
SKU: RR146
Product Categories: Rite In The Rain Canada Home, Top Spiral Notebooks
Product Tags: 146, 146 canada, canada, notebook, rain, rite, rite in the rain, rite in the rain 146, rite in the rain 146 canada, top spiral, universal, waterproof, waterproof notebook
Product Page: https://theritepaper.ca/product/rite-in-the-rain-146-spiral-notebook/
Product Summary
Truly a "go anywhere" notebook. This spiral notebook has 100 pages (50 sheets) in the universal pattern. Great for notes, or scaled drawings. Useful reference info is included on the back & inside covers.
Rite in the Rain Model : 146
Size : 4x6"
Product Description
The very popular Rite In The Rain 146 top spiral notebook. Standard universal page pattern (journal lined with faint vertical grid). Use an ordinary pencil, or a Rite in the Rain all-weather pen.
Pages : 100 pages / 50 Sheets
Page Pattern : Universal
Page Color : White
Rite in the Rain 146
Size : 4x6"
---
What is Rite In The Rain?
Rite in the Rain is a wood-based & recyclable paper. But unlike ordinary paper, it won't turn to mush when exposed to rain storms, heavy sweat, oil & grease, mud & grime, or even a laundry mishap!
Recyclable
In spite of Rite in the Rain's durability, it is totally recyclable as standard paper, which is untrue of synthetic, or poly coated papers. Simply recycle Rite in the Rain as you do other white or printed papers.
Post-Consumer Materials
The Rite In The Rain unique "Polydura" cover and reference card substrate contains post-consumer recycled materials and is recyclable. (Recycled milk, shampoo bottles, etc.)
Recycled Fibre
The wood fibres utilized for Rite in the Rain are purchased from FSC Certified sources. By doing this it insures the product is the most durable, while adhering to high environmental and social standards.
Product Attributes
Dimensions: 1 × 1 × 1 cm
Weight: 0.12 kg
Product Gallery